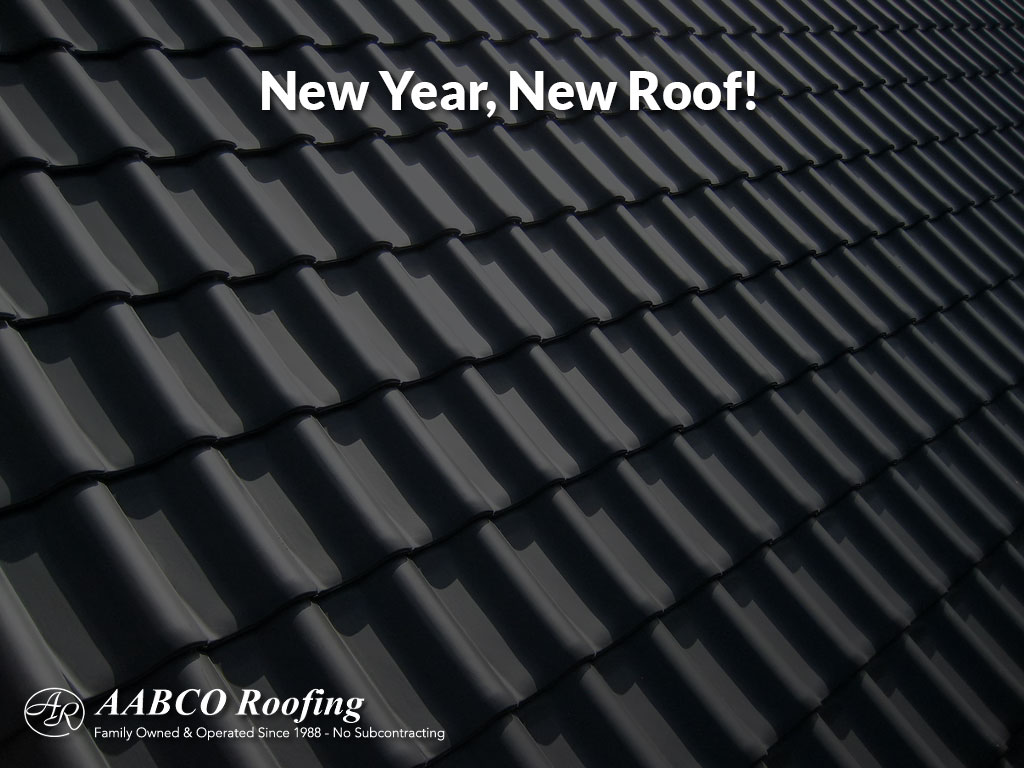 Has getting a new roof put on your home been on your to-do list? It's 2022! What better way to bring in the New Year than a new roof installation? AABCO Roofing offers a ton of roofing styles and solutions that will dress up your house with its very own hat.
Not sure which roof type will work best for your home? Let's take a look at your options…
Tiled Roofing
Tiled roofing offers a gorgeous finish with unparalleled durability. Tile is great for areas with extremely hot weather, salty air, and those that experience sporadic but intense bouts of rain. In other words – tile is perfect for South Florida!
Tile Materials
Tiled roofs are low maintenance, energy-efficient, and long-lasting. Unaffected by rot and insects, a tiled roof will never decay!
Ceramic Tiles
Ceramic tiles are made from molded natural white clay. White clay gives the tiles high reflectivity, heat resistance, fire resistance, and weather resistance. These tiles are lighter than traditional clay tiles and have a good load-bearing capacity.
Ceramic roof tiles are durable and versatile in terms of aesthetics.
Concrete Tiles
Concrete tiles are made from sand, cement, and water. The mixture is molded under high heat and pressure.
Concrete tiles are much lighter than ceramic tiles. Concrete tiles won't last as long as ceramic tiles do, but they cost less and put less strain on your home's structure. They will put strain on your home when wet; concrete tiles have a 13 percent water absorption. This means they can be prone to mildew and water stains.
Clay Tiles
Clay tiles are durable and insulating. They are made from molded clay that is baked for long periods of time. Higher heat and longer baking times strengthen the tiles and help with colorfastness.
Clay tiles have a water absorption of only 6 percent. But they are prone to cracking when exposed to extremely cold temperatures.
Your roofing contractor will know what material works best for your area and its climate.
These different tiles come in several shapes or styles. We work with the following:
1. Mission Tiles
Mission tiles are also known as "true barrel tiles," because each tile is shaped like half of a barrel. The mission roof system consists of tiles placed curving upwards and downwards, or with curved barrel tiles sloping down with flat pans in between.
2. Interlocking Tiles
Interlocking tiles create almost seamless horizontal lines across your roof. The tiles are cleverly designed to lock into each other perfectly, allowing for effortless installation and a gorgeous result.
3. French Tiles
French tiles have two distinct ribs on the surface with wide troughs in between to keep water running smoothly off your roof. These tiles have a strong interlocking design and create an eye-catching texture for your new roof.
4. Spanish Tiles
Spanish tiles form a wavy "S" shape that mimics rippling water. Creating the look of a classic Southwest roof with rows of overlapping waves and troughs, Spanish tiles are a beautiful option for your home.
Metal Roofing
Metal roofs are lightweight but hardy; most last for at least 50 years! This means they don't add stress to your home or damage its structural integrity, but easily withstand harsh weather conditions to keep you safe and dry.
Standing seam metal roofing contains concealed fastener metal panels that have two vertical legs and a wide flat area between them. The legs attach each piece of metal roofing to the adjacent pieces.
There are two main types of standing seam metal roofing: mechanical lock profiles and snap-lock panels.
Mechanical Lock Profiles
Mechanically seamed roofs have vertical male and female legs that line up with each other. They're seamed together using a hand or electric seamer. Electric seamers give a tighter and more consistent seam.
There are two types of mechanical seams: single lock and double lock.
Single Lock Seams
Once the vertical legs are lined up, the roofer folds them.
Single lock seams are made by folding the standing seams once (90 degrees). This type requires minimal labor during installation but isn't as weather-proof as you might need.
Double Lock Seams
A double lock seam is made by folding the standing seams twice (180 degrees), creating a hairpin-like shape. Double lock seams mean a labor-intensive installation, but they are incredibly weather-tight and secure.
Roofs with low slopes (less than 2:12) are prone to water accumulation. Double lock seams provide the extra level of water resistance needed for low slope roofs.
Snap-Lock Profiles
Snap-lock profile panels are roll-formed into shape. Each panel has a male and female leg that snap together. This roofing type doesn't need a seaming tool to join the panel legs – their shape does it for you.
The panel is connected to the roof deck with clips that fasten underneath the panel.
Shingle Roofing
Shingles are flat, rectangular pieces that overlap one another in rows from the bottom of the roof upwards. The rows are typically offset to help prevent water from seeping in and causing structural damage to your home.
Shingles are produced in bulk, making them an incredibly affordable roofing option. With easy installation and a long average lifespan, it's no surprise that shingled roofs are so common!
Two styles of shingles we make use of are 3-tab asphalt shingles and architectural asphalt shingles.
3-Tab Asphalt Shingles
Each 3-tab shingle looks like three separate shingles. This allows for quicker installation and increased weather resistance.
Architectural Asphalt Shingles
Architectural asphalt shingles consist of two or more shingles laminated or bonded together. They're called "architectural" because they are less uniform in appearance than 3-tab shingles, which adds variety and personality to your roofing system. These shingles are slightly thicker than 3-tab shingles and last a few years longer.
Asphalt roofing has its downfalls, but your roofing contractor will walk you through the pros and cons of each roofing option.
Find The Best New Roof for Your Home
Now that you know all about the roofing options you have to choose from, what's holding you back? Start your year off on a good note with a brand-new roof to top off your gorgeous home!
Here at AABCO Roofing, we love nothing more than giving your home the "hat" it deserves. With years of experience and hundreds of roofing projects under our belts, our reliable roofing experts are more than able to take on the job.
Have any questions? Want to chat about how cool your new roof is? Give the AABCO Roofing Facebook Page a visit to let us know or call us at 1-954-426-8500. We can't wait to hear from you!
---