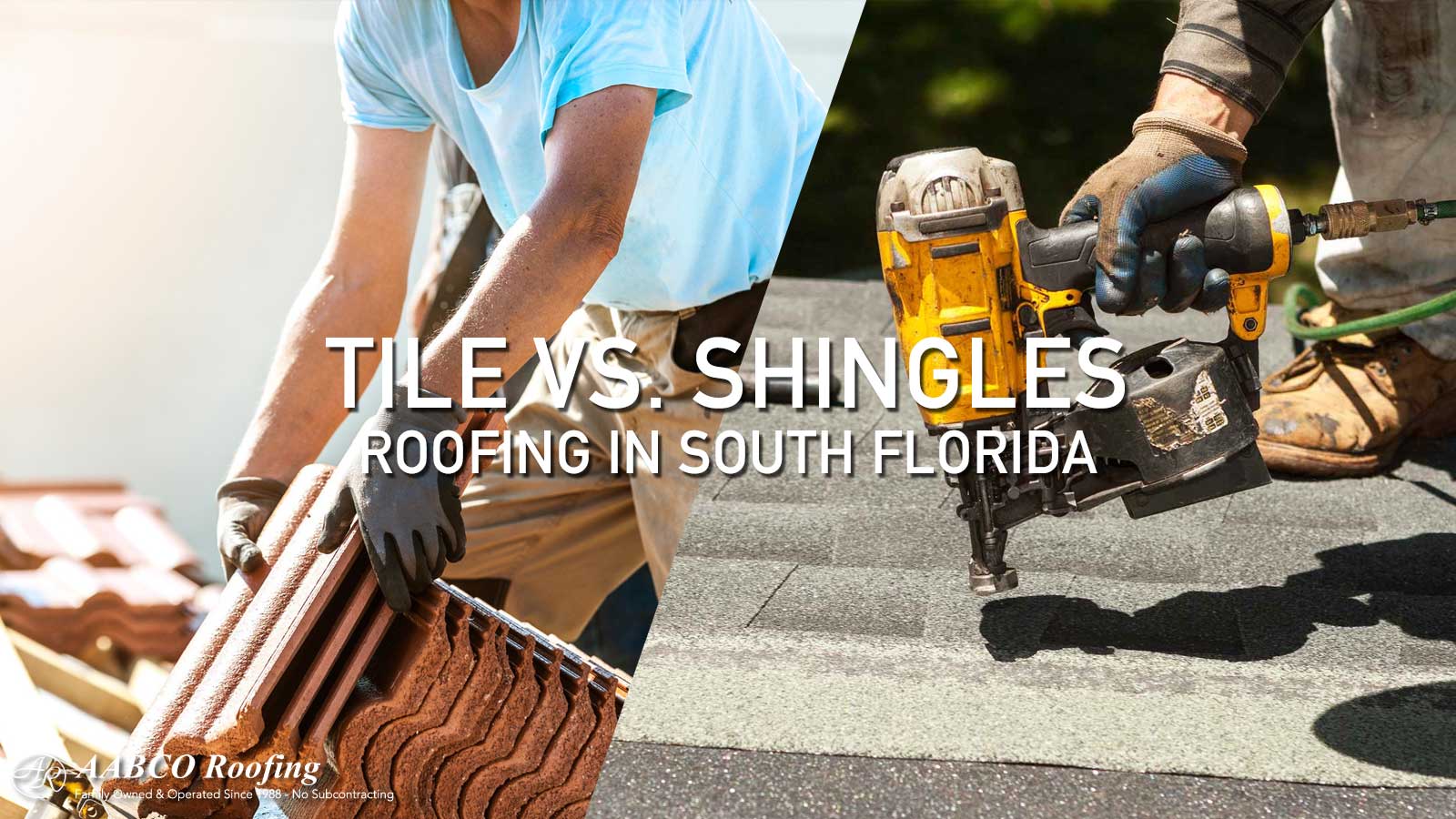 Florida has unique environmental factors that don't affect the rest of the United States. It has approximately 1,350 miles of coastlines and sees a variety of damaging storms and hurricanes as a result. With past hurricanes that have caused billions of dollars in damages, it is critical to pick the most durable and safe roof for your house. Tile vs shingles roofing is the great debate to determine which materials can better withstand Florida's volatile weather.
Tile Roofing
Roofing tiles are made of concrete or clay and come in a variety of styles. Many people assume that they only come in Spanish style, but they come in shapes and colors. In fact, cutting-edge technology allows tile roofing manufacturers to create tiles to match most any architecture like historical, contemporary, Mediterranean, Spanish, and even New England Colonial-style. These roofs are beautiful and striking in appearance and can make your house the most unique on the block. Their color doesn't fade over time like other roofs.
Tile roofs last a long time, and their origin dates back thousands of years. There are still clay roof tiles on many existing ancient structures today. Clay and concrete tile roofs can endure all kinds of severe weather like high winds and rain, often outlasting their shingle counterparts by decades. Another benefit is that they are fireproof. Some of their durability comes from the fact that tile roof systems are sealed to the roof with Polyfoam. This is an incredibly important aspect to houses in Florida that endure inclement weather, regularly. These roofs may even outlast your home. It's not uncommon for them to last past 30 or more years.
Installing tile roofs is more difficult than a shingle roof. Therefore the upfront costs are more. Repairs are more expensive as well as their longevity surpasses the materials that they are sealed to. Still, they're a great investment because they last longer and make your home insurance less expensive. Tile roofs also help with energy costs too as they help with temperature regulation in your home because of their thermal capacity and ventilation that their placement produces.
Tile roofs are also environmentally friendly since they are made from materials that are naturally occurring, and they don't waste natural resources. Old tiles can even be recycled to create new different products. Their even known to reduce air conditioning costs in hot temperatures because of the ventilation that the tile roofing system creates under its application.
Shingles
Shingle roofs of the past were made from asphalt, but today's are comprised of asphalt fiberglass for tear resistance and more durability. They can be made from asphalt, fiberglass as well as many other materials. This type of roof is a popular choice for sloped roofs because of the availability of colors, affordability, and easy installation. Unfortunately, shingle roofs do not withstand severe weather very well and frequently must be replaced after hurricanes and tropical storms.
For many, this is the most popular type of roof because the high-quality shingles usually have Lifetime warranties and are the toughest material for shingled roofs. However, the average shingled roof lasts between 15-30 years. Since the shingles overlap, they keep debris and water out making maintenance less difficult.
The fiberglass shingles are also fire resistant as well as resistant to UV rays. They are made waterproof by applying an adhesive that binds the system together and then that is covered with an additional asphalt blend
Tile vs Shingles?
Both types of roofing systems have their pros and cons. For southern Florida, quality roofing must withstand inclement weather conditions. Tile roofing provides the endurance and durability that roofing requires to remain intact during a hurricane. These roofs are also beautiful and can be created for any type of architectural style. With energy efficiency and a long lifetime, tile roofs have many benefits.
---