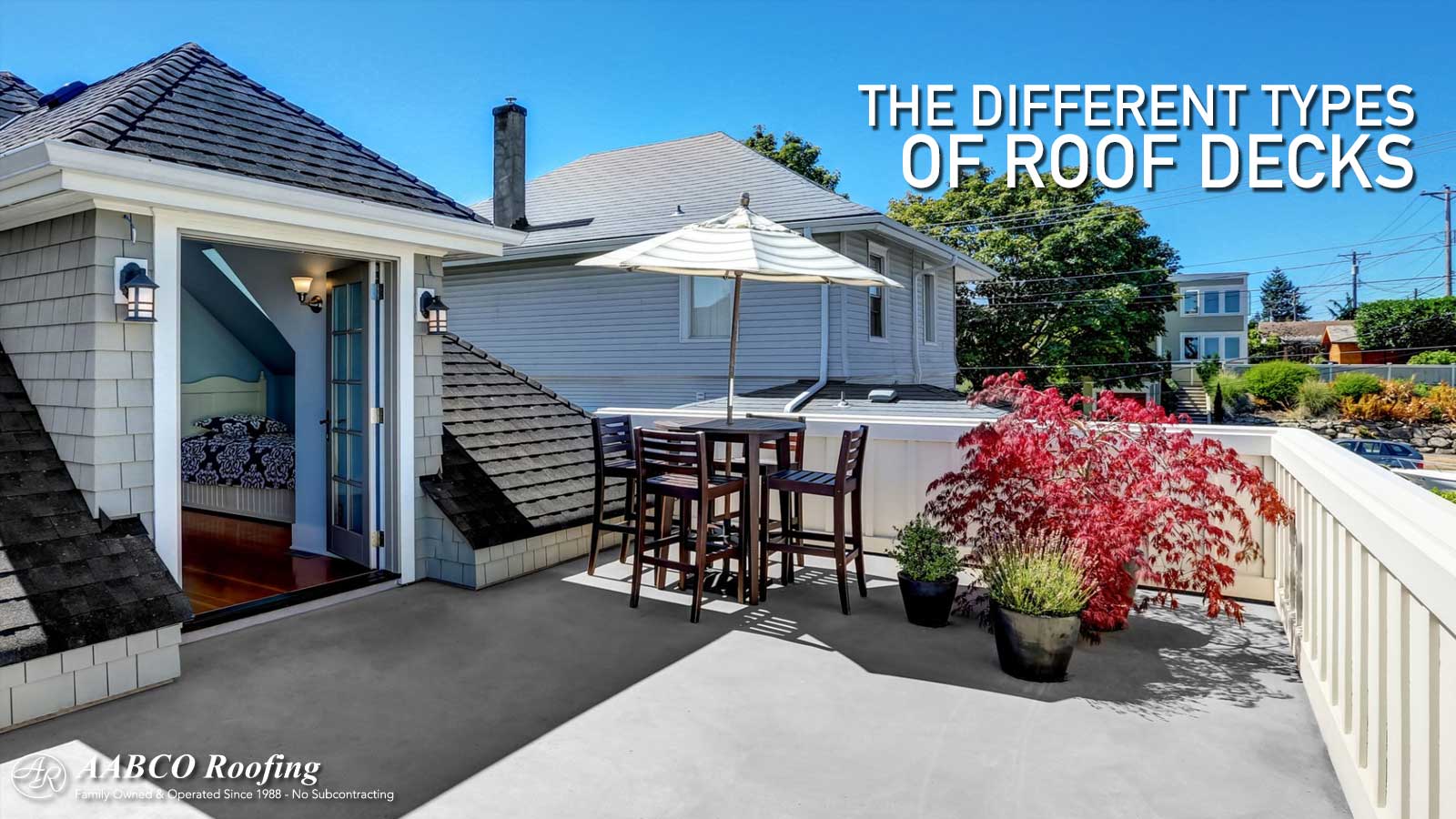 There is more than meets the eye when it comes to roofing and its different layers. We tend to focus on the parts that we can see and forget about the others. The roof deck is an integral component of any roofing system. Depending on the weight it needs to hold, there are various types of materials that can be used. Our professional staff at AABCO Roofing will be able to guide you on which material best suits your home. From these choices a professional will be able to recommend which roofing materials best compliment your project.
What Is A Roof Deck?
It can be argued that the roof deck is the backbone of the all roofing systems. It is found between the structural components, like your trusses, and the insulation and waterproofing layers. Essentially, the roof deck is the part of the roof on which everything is placed. It needs to be strong enough to hold the weight of the roof, while being able to cope with some give. There are various types of roof deck materials to choose from but the commonly used materials for residential are Plywood or Tongue & Groove and on commercial roofs, steel, concrete and cement.
Wooden Decks
Panels or planks can be composed of plywood sheathing or solid wood planks. Solid wood types are typically tongue & groove, while sheathing is solid sheathing is when 5/8 CDX or ½" plywood decking is used
The roof deck supports the weight of everything else, so improper installation can be extremely dangerous. We can help you to avoid this risk by providing professional and quality workmanship. Trust our roofers at AABCO Roofing to determine which deck material is appropriate for your home, taking into account South Florida Building Code. Contact us to make an appointment or to find answers to any of your roofing questions.
Steel Decks
Steel decks are manufactured by roll-forming cold-rolled sheets. This process produces steel with less tolerance and a wider range of surface finishes. These panels are available in narrow, immediate or wide-rib, with the latter being the most common. Varying in depth and thickness, these panels are painted or galvanized.
Structural Concrete Decks
This concrete can be cast-in-place, post-tensioned or precast. Cast-in-place, also known as poured-in-place, is when the concrete is poured into the components finished position, while post-tensioned slabs have prestressed steel cables in plastic sleeves placed down before the concrete is poured in placed. Precast concrete speaks for itself in that it is cast and set before, and transported to the site.
Lightweight Insulating Concrete Roof Decks And Fill
These are produced on the site by mixing insulating aggregates with Portland cement and water. Another option, known as cellular lightweight insulating concrete, would be to use a foaming agent creating small air cells in the mixture. These concrete forms can be poured over steel or concrete decks and formboard systems but the venting of these decks needs to be considered. Fills using insulating aggregate tend to have a higher moisture content and are generally placed over perforated steel decks and permeable formboards. The cellular fills have a lower moisture content and do not need to be applied to vented substrates. The strength and thermal resistance depends on the mixture design and composition.
Cementitious Wood-Fiber Panels
This material is comprised of treated wood fibers that are bound together by Portland cement, and compressed into flat panels. This provides it with acoustical attenuation and thermal resistance.
Poured Gypsum Concrete Decks
More commonly used in the past, this material is produced on site by adding gypsum, a soft mineral, with wood fibers and water. This mixture is then cast on formboards to set.
---