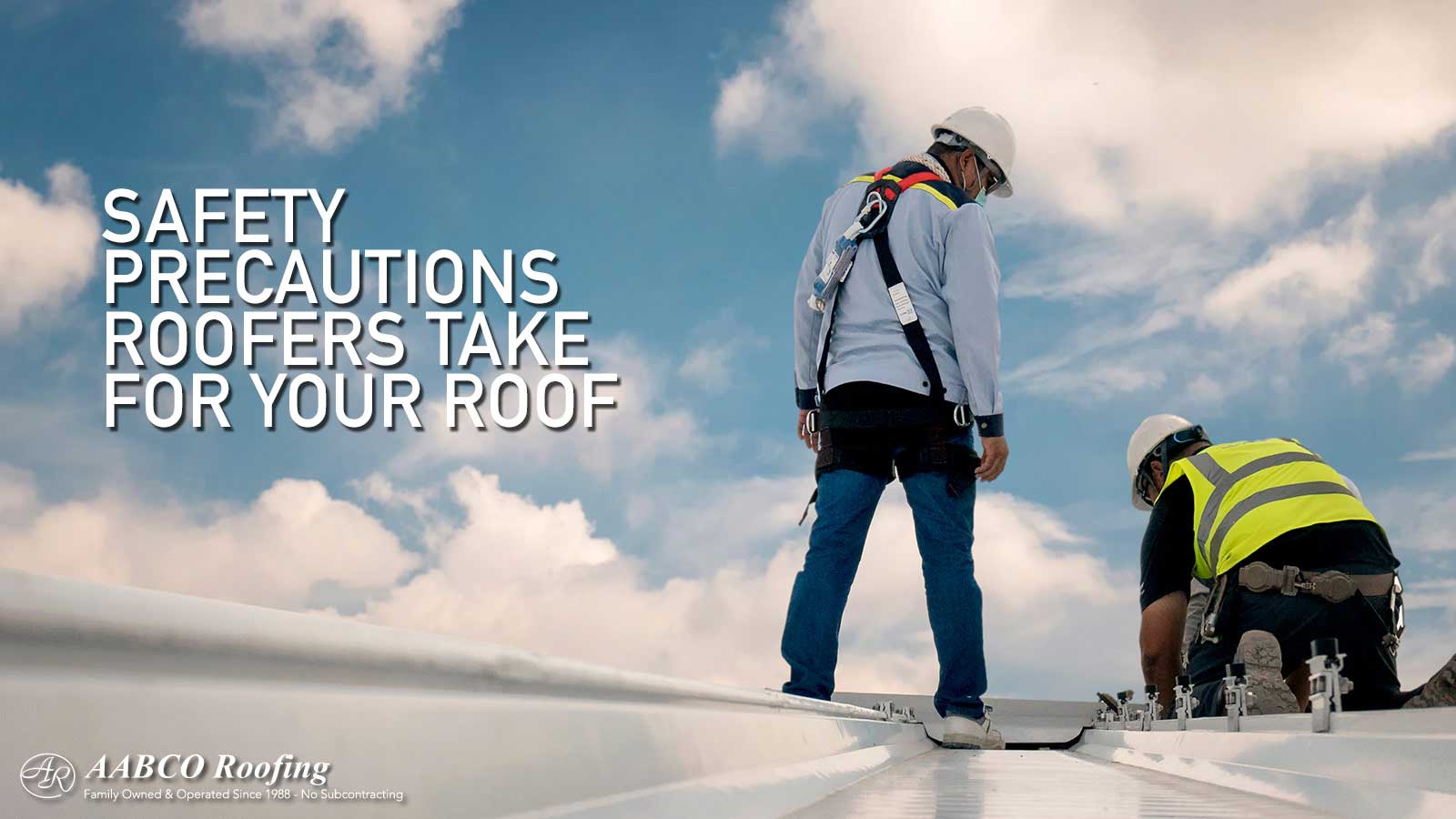 It takes a split second for something to go wrong while working on your roof. The potential for devastation can be incomprehensible to those unfamiliar with this industry. Small oversights that don't appear to cause any issues at the time can lead to serious complications down the road. The recent tragic burning of the Notre Dame Cathedral, which originated from the roof of the monument, is a harsh reminder of this. There are important safety precautions that we as roofers follow to prevent the worst from happening. Although these roof safety precautions sometimes seem obvious, it isn't always the case for less experienced roofers.
Your roofing structure is a vulnerable part of your home that should be regularly maintained. Conducting roof maintenance and repairs takes experience and a lot of care to ensure that no damage is done to the structure of your roof. It's for this reason that we suggest contacting a professional when work is required on your roof. You run a much higher risk of doing more damage than good if you are unsure of how to navigate safely along the structure of your roof. Roofers have an important job in preparing your roof for a project and carrying out the job in a professional way.
Fragile Areas
An experienced and trained roofer will be able to detect vulnerable areas of your roof once they have had an opportunity to inspect the surface. Contractors are most likely accessing your roof because there is a problem that needs fixing. This means that your roof is already fragile or under pressure in some way. The roofer needs to assess your roof with caution and remain completely aware of where the weak spots lie as to not cause further costly damage. The structure of the roof should be properly scouted to prepare for this. According to construction guidelines, all roof surfaces should be regarded as fragile until the assessment carried out by a professional confirms otherwise.
Suitable Equipment
Different roofing systems require different equipment used for roof repairs, installation, and maintenance. You cannot approach all work with the same equipment. When a roofer is conducting work on your rooftop, it is vital that this equipment is well managed. Irresponsible use of the equipment will put pressure on the structure of your roof which could cause it to weaken and possibly buckle.
Tidiness
Good workmanship means that your roofer keeps the surface of your roof as tidy as possible while working. This is important because excess materials left lying around can cause damage to your roof. Discarded or used materials should be thrown in a rubbish chute or in containers. This is respectful of the client's property but also ensures that the integrity of the roof is not threatened by laziness or disregard. Something as small as a nail or screw can compromise the integrity of your entire roof.
Weather Conditions
Weather conditions impact the safety and the comfort of the builder which directly affects the quality of work done on your roof. It also puts your roof at risk for being damaged due to unfavorable weather conditions such as poor visibility. A roofer should never access your roof when the weather conditions are unreliable. This puts the safety of the roofer at risk physically but also may lead to structural damage that is unbeknown to the roofer at the time.
Materials
Quality materials, among other things, will determine the lifespan of your roof. It is the responsibility of the roofer to only use the best materials when completing a roofing project for your home. Poor materials will ultimately put your family and home at risk, especially when the inevitable storm occurs and strong winds affect the city.
This includes the aspect of product knowledge. Part of carrying out a roofing project safely means making use of the relevant materials suited for your roof specifically. One size does not fit all. The materials used should be chosen to suit your needs. Failing to do so may put unnecessary pressure on your roofing system.
Workmanship
You are well within your rights to question the contractor about how they intend to take care of your property when they undergo your roofing project. Removing a roof can be a destructive task if not done with care. An experienced roofer will take steps to ensure that other parts of your roof are not damaged, that your windows are protected from falling debris, and that inhabitants within the home are safe. If this isn't the case, you should be informed ahead of time so that you can prepare for the job.
If your home requires a roof replacement, the contractor should be removing the underlayment of the roof and not working over it. The wood needs to be assessed for any rotting because rotten wood does not grip the nail the way that it should and this will result in your roof being ripped off at the first sign of strong winds. This comes down to the workmanship and quality of work that is offered by your roofing company.
Making use of reputable roofing contractors is your safest option when it comes to your roofing project. Cutting corners to save costs may result in your roofer doing the same, leaving you with an unsafe roof over your head. Roofers that are experienced in many facets of roofing materials and techniques will be aware of the care and safety precautions required to maintain the structural integrity of your roof while carrying out roofing work. At AABCO Roofing, there are no compromises. We place safety, integrity, and quality work at the forefront of our projects. The safety of your roof is as important to us as it is to you and your family.
---