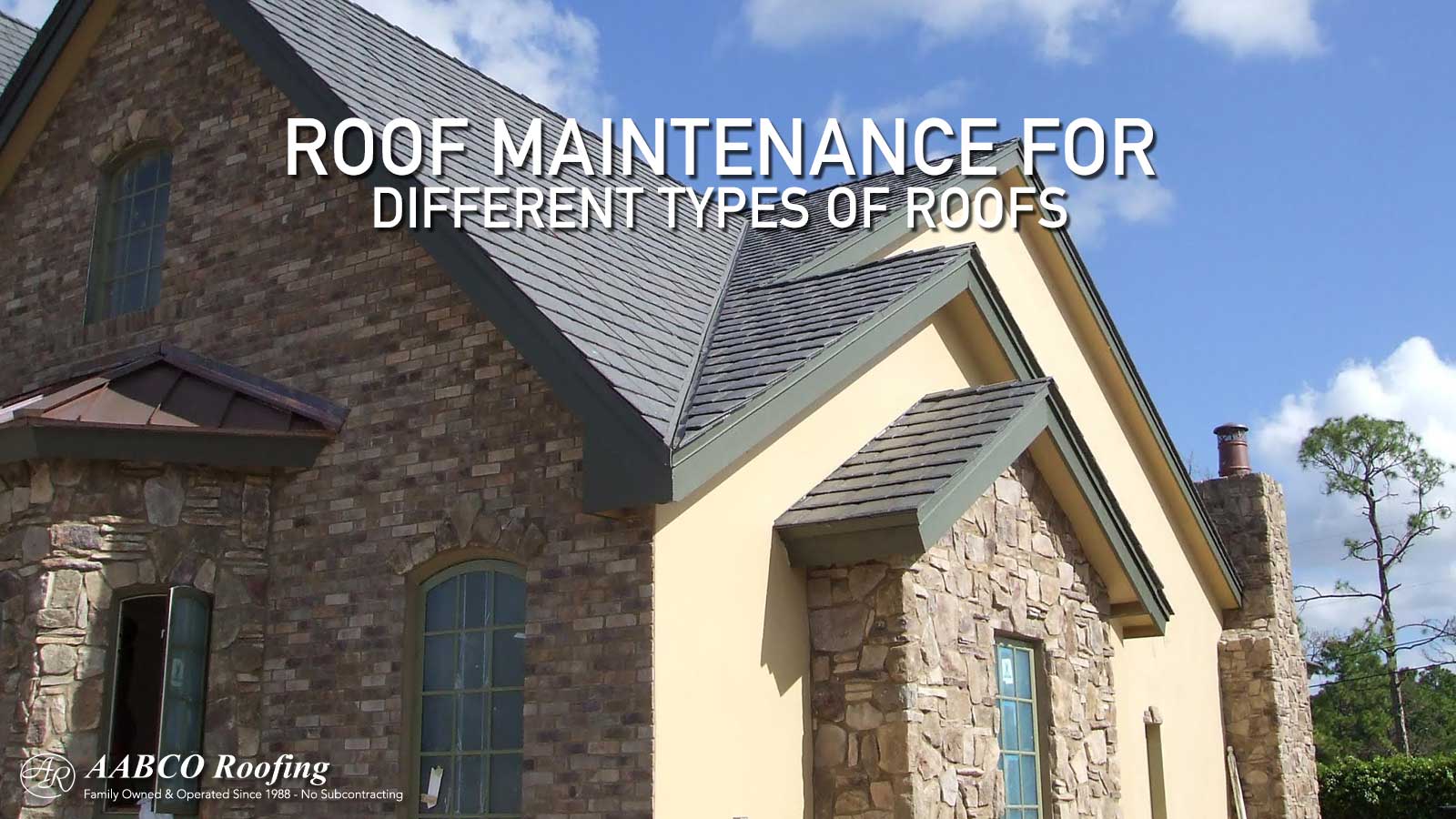 Are you paying enough attention to your roof? Roof maintenance is the last item on some homeowners' list as they only consider the condition of the roof once it has been damaged. Your roof is an investment and like anything you value, it should be prioritized. Regular maintenance can increase the lifespan of your roof and save you money in the long run.
Here we take a look at the maintenance requirements for different types of roofing by asking three questions to help make your roof maintenance more effective.
What Type Of Roof Do I Have?
When it comes to roof maintenance, one size does not fit all. To determine which kind of maintenance your roof requires, it is a good idea to start by identifying the roofing material you have.
Tile Roofs
Tile roofs are available in clay or concrete and are beneficial because of their fire, rain, and high wind resistance. They are considered an investment as they can last up to 50 years with regular maintenance. However, some tiles can be more fragile than other roofing systems as they can break or crack when stepped on.
Asphalt Shingles
Asphalt shingle roofs are the preferred option for many homeowners because of their durability and their price-point. As the name suggests, the roofing makes use of asphalt for waterproofing and is available in organic or fiberglass. When maintained properly, an asphalt shingle roof can last up to 20 years. A basic maintenance requirement is that the shingles are checked regularly to replace or repair pieces that are loose or damaged.
Flat Roofs
Flat roofs are almost completely level and are typically coated with layers of bitumen sheets, a single-ply membrane, or rubber. Flat roofs can last up to 20 years before they need replacement. They should be inspected at least twice a year to prevent everyday wear and tear. During hurricane season in South Florida, flat roofs should be inspected after every storm.
What Can I Do To Maintain My Roof?
Roof repair and maintenance are not appropriate DIY jobs as you could damage your roof or injure yourself. The slightest mistake, like losing balance or a damaged shingle can cause you to slip and fall from the roof.
A professional roofing contractor can maintain your roof by:
Cleaning Moss & Algae
Roofs can be hotbeds for moss or algae. To ensure that they do not cause damage to your roof, they should be cleaned regularly. Tile roofs can be cleaned using a little bit of mild dish detergent and a hose or low-pressure power washer. Asphalt shingle roofs can be cleaned using zinc or lead control strips.
Check For Debris
All roofs collect debris over time. Leaves and garbage collecting on roofs are an all-too-common occurrence and it. threatens the lifespan of roofs differently.
Debris stuck between broken tiles or gutters can clog the roof's overflow. This can cause water to accumulate and leak which can compromise the roof's structural integrity if left unattended. Water damage caused by the buildup of debris contributes to the deterioration of the asphalt. Checking for debris regularly, especially after a storm, will help you spot any issues before they cause major damage.
Repair
Repairing your roof as signs of wear and tear occur can be an extensive undertaking, but repairing broken shingles, tiles, or weakened seams and membranes can increase your roofs lifespan. When checking and cleaning out debris, your roofer will look for any signs of damage to your roof and have it addressed sooner rather than later.
I Need Help, Who Should I Call?
To ensure that your roof and family are well taken care of, it is best contact a professional roofer. A reliable roofing contractor should be insured and have reputable references. Aabco Roofing has been servicing the South Florida residential and commercial roofs for over 30 years! Contact us today at 954-426-8500 for an inspection of your roof.
---